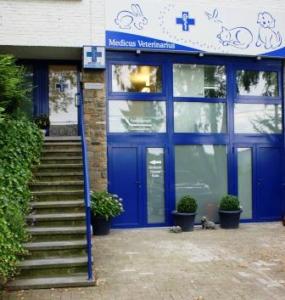 Welcome on our website.
Best wishes to you and your four-legged friend!
Since 2010 the office of Dr. Caroline Falmagne which opened in 1993 was officially recognized as a Veterinary Center: Vetcare Center was born!
This ment there was a need for profound changes and expansion of the original infrastructure to offer a wider range of veterinary services.
In addition, the team has grown: some vet's joined Dr. Falmagne in 2011 to offer a service 24h / 24, 7/7
The next step was the creation of this new website:  www.vetcarecenter.be
Although some parts are still under construction…
LATEST NEWS :  even more availability: We now have 2 Full Time veterinarians working in our center.  2 specialised surgeons, an osteopath, a nutritionist, a Vet specialised in behaviorism,and delivery service is also aviable…
Opening hours (appointments and supplies of drugs and specialty food):
From

Monday to Friday :

9 am-7 pm

Saturday:  9 am- 1 pm
Consultations (without appointments):
 F

rom Monday to

Friday:

11-12am

 

and

17-19 pm

Saturday:

 

10-12am
Reminder: Dr. FALMAGNE will be available every day but only by appointment.
EMERGENCIES:
we are available on the phone 7d/7d and 24h/24h: 

0475781739
For your convenience the PARKING was expanded during the month of January 2015
The purpose of our site is to allow you to get to know us and the Centre in a better way, to see what we do and to get access to various practical informations.
Follow us and like us on our Facebook page
VETCARE CENTER
Dr Caroline FALMAGNE  & Co
439 Alsembergsesteenweg
1653 DWORP
Tél: 02/380.24.92
EMERGENCIES: 0475/78.17.39